One of my most treasured movies of alllllllllll time. I love Emma Thomson's 1995 adaptation is heartfelt, funny and utterly compelling! Its won so many awards at the BAFTA's and the Oscar's. Kate Winslet was great as Marianne, her daily life was driven by her emotions in a society that encouraged young ladies to hide them. She manages to express herself in such away that you laugh with her rather than at her. With the book I found myself wanting to shake her and say, 'get a grip'. But in this adaptation all I can do is clutch a pillow and morn her loss. The scene where she is walking in the rain is the most dramatic scene ever. I have walked in the rain and I have never looked glamours or romantic, but Ms Winslett manages to do it and I take my hat off to her.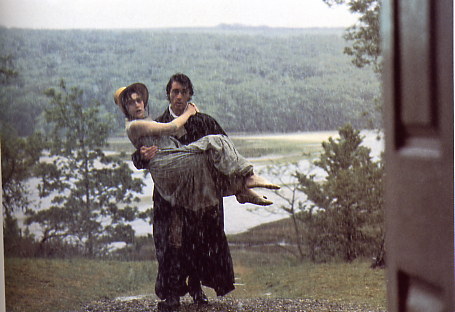 Alan Rickman plays the dignified Colonel. He's the knight in shining armour that is pushed aside and is forced to watch from the shadows. Basically he is = love.
You don't have to be a fan of Austen fan to like this movie. I've just seen a review of this movie on ew.com and the reviewer has complained that Thompson was to old to play Miss Dashwood. Well yes she was, but she was deliberately cast so modern audiences could understand and relate to the difficulty of finding a husband after a certain age. So shut ya face haters!
The 2007 adaptation falls on its face and fails to evoke any of the warmth or irony that 1995 adaptation did. If I had to describe this Tv movie in one word it would be 'blue!'. That was the only color I could associate with this film. It just seemed as if they had drained all other colors out and left the only depressing one left. Marianne in this version is more subdued and at the end is tamed like a'horse'. She looses all interesting aspects of her character when she goes off and marries Brandon. I didn't even get excited about the sword fighting, I just didn't care enough to get excited. Elinor is just plain and boring. Willboughy is not convincing as a handsome cad more like a self pitying boy who doesn't know who to blame for his predicament. What was Alan Davis thinking by adding a sex scene at the beginning.The key to all Austen films is to leave sex out of it and let the eyes do the flirting! The only good thing about this adaptation was Edward's character not only did he do a great job of becoming the slightly lazy care free gentlemen he is incredibly good looking.
But apart from that there is nothing to recommend this film. The 1995 wins hands down.
2:1